Ahead of spinning the first of what may well become an regular all 45's party for The Doctor's Orders @ The Book Club on 22nd March two of the UK's top DJs and 45's collectors DJ Format & Mr Thing answer Spin Doctor's questions about their passion for those little disks your mum used to have!
How many 45's to you think are presently in your collection?
FORMAT – I've never counted my 45's before but I've just had a look and I would estimate about 2,000. I know a lot of collectors like to have a lot of records to impress other people but I'm usually quite ruthless in getting rid of records I don't ever listen to. I prefer to have a manageable amount of records I cherish & enjoy, rather than a lot of mediocre records cluttering up my house.
THING – I reckon at a rough guess a couple of thousand, maybe more i've never really counted them to be honest or sorted them into Genres even … it's a lot of boxes, but it covers Soul, Funk, Reggae, Dancehall Reggae, Hip Hop and House and most other stuff too.
What is it you like about 45's over the good old 12″?
FORM – . I started buying Hip Hop 45's in the late '80s because you could buy them really cheap in regular shops like Woolworths rather than specialist record shops but I think I got more obsessive about collecting them in the last 10 years because I'd already got most of the Hip Hop 12″s that I wanted so collecting 45's brought back the excitement of finding my favourite Hip Hop records all over again.
Technically speaking, 45's are definitely harder to mix & scratch with but I find that people seem to appreciate watching a DJ cutting up 45's in an age when too many DJ's are checking their emails whilst using Serato!
THING – I like the portability and size, it's a fun format (no pun intended) to play as well. I actually learnt to cut up on 45s first because the first decks I had access to were only Belt Drive so we were always raiding the cheap bin in Woolworths for 7″s as they didn't drag when you let them go so much!
What is your most treasured 45?
FORM – Jazzy Jay-Def Jam. It's one of my favourite records in the first place but the 45 is pretty damn rare. I have some psych/rock 45's that I really love and wouldn't want to be without but for some reason the Hip Hop 45's are the most special to me.
THING – Got a couple in terms of "WHAT? ON A 45???". Of those it's my 'Nas Is Like' 45, I bought it at the time when Major Flavas moved to it's last shop in Soho, they had it on the wall and i bought it, i would love to know if the stock from that place is still around, there was always sly gems in there! In terms of rareness and record it took me the longest to get it's Third Guitar "Baby Don't Cry", I've been looking for it since the early 90s, and I found one on a soul dealers list for a very reasonable price a year or so ago (which still wasn't cheap), but one went for over twice the price I paid the week mine arrived!
What is the most embarrassing 45 you own? Any guilty pleasures? 
FORM – Hmmm..I have a copy of Groove Line by Heatwave which I guess is pretty embarrassing! I can't think of a situation where I would play it in public but I really like it and can't bring myself to get rid of it. I have a few Miami Bass 45's that are probably hilarious to most people but I was really inspired by certain scratch DJ's that were part of the Miami Bass scene like Mr Mixxx (of 2 Live Crew) so I have a few choice Miami Bass 45's that are special to me but NEVER leave the house ha ha!
THING – We'll go with Adam & The Ants "Kings Of The Wild Frontier", first record i bought. Not the best i know, but my taste changed somewhat a year or two later haha!  I know Spin has a real soft spot for Paul Simon 45s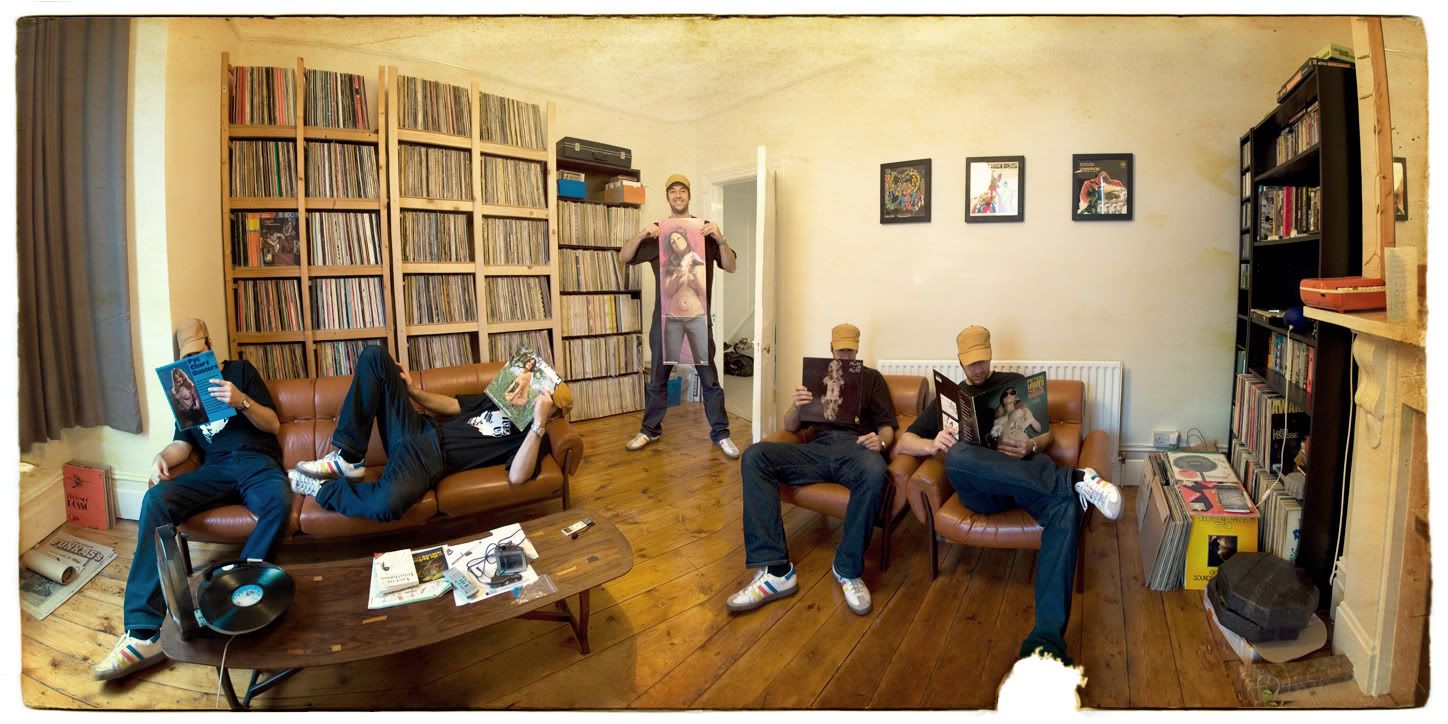 What's the most you have paid for a 45 & what for? 
FORM – The most money I've ever paid for a 45 is hard to remember exactly because I went through a phase of paying around £100 for a few rare Hip Hop 45's that I just HAD to have! I paid £130 for Lord Finesse & DJ Mike Smooth-Baby, You're Nasty/Keep It Flowing but that's probably the best double A-side Hip Hop 45 in my opinion, even if it's not the rarest. I've paid over £100 for a few psych 45's but I only usually pay that kind of money for 45's if I'm fairly sure I could recoup the money if I ever had to sell them.
THING – Most I ever spent on one 45 was for either Arnold Blair "Trying To Get Next To You" or Bobby Reed "The Time Is Right For Love", I think it was about £150 ish, emphasis on the ish. Both pretty tough to find beautiful soul pieces, the Bobby Reed was possibly cheaper as the record was mint but the label had some water damage to it. Then it got re-issued just after i got one! But i've got others i paid less for that are worth more now, right place right time and all that …
What is the most surprising place you have found 45's?  What was it you found? 
FORM – The most surprising (and rewarding) place I've found 45's was in a cafe/restaurant in Amsterdam. It was about 7pm and I was with my sister and some friends who were dragging their heels, looking in the windows of the shops that had already shut. I'd walked ahead and when I stopped to wait for them to catch up I found myself staring aimlessly into a cafe/restaurant to my left for a few seconds. I then started to focus on a cardboard box on a small table just in front of the counter that looked like a box of 45's. I walked towards it expecting to find that it was in fact a box of old books but incredibly it WAS a box of 45's. I flicked through the 100 or so records in the box and was disappointed that it was mostly '80s pop/rock singles that you would typically find in any record shop. The only record that looked remotely interesting was an old Dutch 45 from the late '60s but it was 10€ which is more than I would usually pay for a record without hearing it first. I already had an album by this Dutch band and although it wasn't anything special, I had used a guitar sample from it and knew it was worth £50+ so I figured it was worth risking spending €10 on the 45 because I would hopefully be able to recoup my money if the record turned out to be rubbish. I was blown away when I finally played the B-side of the 45 as it was a funky blues/soul song with heavy bass & drums which I eventually used to make 'Mr DJ'. Sureshot La Rock (the MC on that song) even makes reference to it saying "this beat right here underneath my rhyme was found in Amsterdam" and I scratch a sample of Big Daddy Kane saying "for only 5.99". Ok so it actually cost me €10 not 5.99 but what the hell. I don't really want to name the record in question because I sampled it and don't want to risk getting myself into trouble!
THING – There's a place up north my man Sam DJ EsSDee took me too, very unassuming shop … upstairs was very tidy and had some great records in, scored a couple of Bobby Byrd 45s i was looking for and some Reggae versions of Funk songs etc, but then he showed me downstairs …. absolute carnage. 45s everywhere, all genres, kind of sorted but not really …. in the Hip Hop section was the Anfield Rap and an LL Cool J 7″ but in the soul boxes were BDP US 45s, multiple copies of random UK rap 45s, so much stuff. I was in there for about 6 hours and i only did about 4 or 5 rows, i went back a second time and scored big again but i'm well overdue for another visit!
What's currently on the top of the wants list?
FORM – There's so many records on the wants list, it's a never-ending quest. In the last 3 years I've managed to find most of the rare Hip Hop 45's I really wanted but there's still a few I'm looking for but I don't like to alert other people to their existence. That might sound paranoid but there's a lot of classic and obscure Hip Hop records that most people have no idea were ever released on 45. Sometimes you might have to search for a certain pressing from a certain foreign country to get a different B-side that was exclusive to that country. It's all a bit anal but other collectors will know exactly what I mean, you can't go shouting about your most wanted records ha ha!
THING – Currently top of the wants list is a sweet soul 45 by The Deceptions called "Of All The Hearts" … not massively rare but proving tricky to locate, i do still have a pretty huge list of things i'm looking for and then there's all the stuff you didn't know existed when you do gigs with Shepdog, Johnny Roast or Matt of course!
If you could print any existing tune on 45 what would it be?
FORM – A lot of classic Hip Hop songs got pressed onto 45 a couple of years ago but I never bought them myself because I only buy the originals.
It kind of takes the fun out of it if you just press anything you like in hindsight, I just like hunting down the original pressings. I'm not saying that's how everyone should feel, that's just my personal approach to collecting Hip Hop 45's.
If there's one song I wish WAS pressed on 45 back in the days it would be Music Man by Master Ace as that's one of my all time favourites.
THING – I wish there was an official 45 of Edna Wright "Oops Here I Go Again" but sadly just a bootleg one … but i would love to have Amanda Ambrose "No More Sad Songs" as i'm 99.99999% sure that's only an LP cut, there's so many LP cuts!
What 45 would you play at – your wedding / funeral / dinner party / birthday etc? 
FROM – Tie The Knot by Digital Underground. Funeral: I'm Alive by Tommy James. Dinner Party: Givin' Up Food For Funk by The JB's. Birthday: The Birthday Party by Grandmaster Flash & The Furious Five
THING – Hmmmm. Wedding i reckon Bill Withers "Make A Smile For Me", i am bit soppy like that, amazing record. Dinner Party – tough to play 45s at as you'd have to keep getting up to change them but … Toto "Georgy Porgy" ("Georgy Porgy pudding pie ……") and Funeral – LTD "Love To The World". One of my all time favourites, nice and uplifting!
Is there any 45 you know the other has that you particularly want?
FORM- Thing has a LOT of 45's of Funk & Soul 45's that I want! We used to trade quite a lot and he was always very generous in giving up any Hip Hop 45's that I really wanted, even if he only had one copy himself. But then he got the bug from me and started collecting Hip Hop 45's more seriously and I can't get him to part with his copy of Brooklyn's In The House by Cutmaster DC…but I'll eventually break him ha ha!
THING – Everytime i DJ with or go to Matt's house … he shocks me with some crazy new find. He has got absolutely insane records, right across the board, and it's tough to pick one but i would REALLY like his German Lord Finesse & DJ Mike Smooth "Baby You Nasty" 45 … i went mad enough when the Dutch UMCs "One To Grow On" 45 showed up but that one tips the scales for me. Amazing!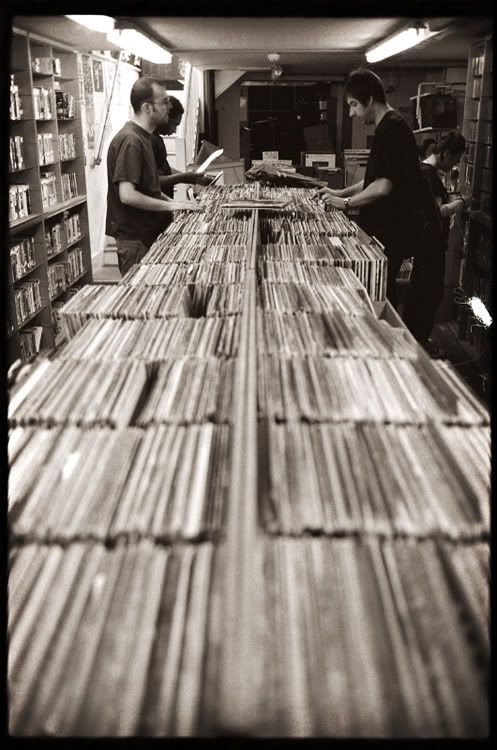 What do you think has brought around the current resurgence of interest in 45s?
FORM – I think the emergence of Serato has probably helped with the resurgence in 45's because some people, like myself, are now more militant than ever in preserving vinyl culture. I'm slightly jealous that DJ's can play anything from their record collection by using Serato because it's almost impossible to play songs from traditional single vinyl LP's in clubs because the volume of the pressing is too quiet and causes feedback on sound systems. 45's are usually pressed nice & loud so I guess they are more club friendly. Serato also seems to have made a lot of DJ's too lazy to consider carrying a crate of records so maybe a box of 45's is more manageable for these pathetic people ha ha!
THING – Well to be honest i was always buying things that i was looking for as and when they turned up and not really actively searching like i have done the last few years, but doing gigs with Matt and Shep, DJs like that made me really step my game up so that's what re-kindled my enthusiasm for them, so hopefully it's the same for other people. Plus it was the original way to actually buy a single, i enjoy reading the labels and looking at the sleeve art if it has it, all part of buying records for me.
How you feel internet is affecting the digging game?
FORM – The internet has completely changed the digging game over the last 15 years and it has really helped reveal which records are truly rare and which are not. In the past, a lot of record dealers and record shops would base their whole pricing structure on the word of record collector price guide books which often got things VERY wrong. There are good and bad sides to digging on the internet but I have to say that I would never have found so many of my most wanted Hip Hop 45's in recent years if it wasn't for the internet because that's often the only place they turn up. I still get 100 times more pleasure from digging in record shops and discovering records for myself but sometimes you have to search on the internet to find that certain record that has eluded you for years.
THING – It's made getting stuff from all over the world without having to actually go there a lot easier, but that's part of the fun anyway! Also very good for getting information but it absolutely doesn't replace being in basement covered in dust finding something for a fraction of market value that you're looking for … I have only used ebay a couple times and i occasionally use Discogs but generally i like being out in the field, so to speak. And let's not go into what it's done to the prices of some pretty common records!
Make sure you do not miss these gentlemen alongside Spin Doctor & Mo Fingaz as they all spin 45 x 45s at The Book Club on Friday 22nd March!